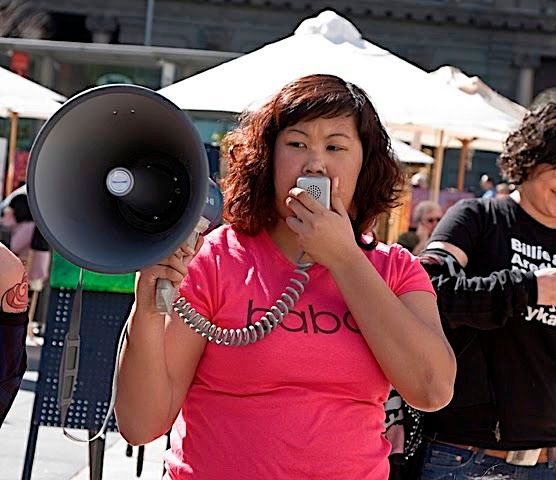 Elaine Villasper is the Vice Chair of Education for GABRIELA USA, the North American chapter of the Filipino women's rights organization. Gabriela, an alliance of over 200 Philippines-based women's organizations, has been agitating and organizing for women's rights in that country for almost three decades. GABRIELA stands for General Assembly Binding Women for Reforms, Integrity, Education, Leadership and Action, and was named in honor of Gabriela Silang, who protested against Spanish rule of the Philippines in the eighteenth century.
GABRIELA USA's affiliate organizations are largely based on the west coast – Pinay sa Seattle in Washington and Babae San Franscisco and Sisters of GABRIELA Awaken in California – with one affiliate group, Filipinas for Rights and Empowerment (FiRE) in New York. Villasper helps to teach basic organizing skills, trains young leaders and helps to educate the local community about issues that affect Filipino and Filipino-American women. GABRIELA USA runs a number of cultural and artistic programs here in the US, as well as the Back to the Motherland program, which enables Filipino-Americans to travel to the Philippines to gain a better grasp of the pressing political, socioeconomic and human rights issues on the ground there. Here in the US, the organization works on issues like domestic violence, workers' rights, immigrants' rights and political representation for the Filipino-American population.
It was a real pleasure to speak with Villasper, and to able to hear from her about the issues she works on, which too often don't get the attention they deserve.
And now, without further ado, the Feministing Five, with Elaine Villasper.
Chloe Angyal: What is GABRIELA, what do they do, and how did you come to be involved with its American chapter?

Elaine Villasper: GABRIELA is based in the Philippines. It's an organization, but also an alliance of over 250 women's organizations on the archipelago of the Philippines. It is now in its twenty-sixth year, and it was founded in a time of martial law. Back in the 1970s, we had a dictator, and a lot of people but particularly women were trying to fight for their freedom and for liberation. GABRIELA was born when several women's organizations decided to join together and harness the power of women's organizing in one space. I am a member of GABRIELA USA, the first international chapter of GABRIELA Philippines, and as a chapter we are about two years old, but we had been supporting GABRIELA Philippines for several years before we were an international chapter. I'm also a member of Babae – Babae is a term for "woman" in Tagalog. I was a founding member in 2005, so I've been in support of and working with GABRIELA Philippines ever since I got involved.
When I first got involved with GABRIELA, I was in college. I was really shocked by the issue of sex trafficking and how Filipinos are affected by sex trafficking. When I first started college, I didn't know that Filipino women were affected by so many issues. I had grown up in the US undocumented, so I didn't have a lot of access to information or even just basic history of Filipinos and Filipino-Americans, until I got to college. It was the first time I was learning a lot of these things, that there was a sex trade, and that people were making money off of it, off of the bodies of women. And it really struck me because at the time I was thinking, "that could be me." These women, they're me. They're my age, they could be my cousins, my family. Any of us could easily have fallen into the sex trade or been victimized in the same way, because I lived in the same conditions that these women are living in right now. So when those realizations came to me, that was when I decided that I had to do something.
CA: Who is your favorite fictional heroine, and who are your heroines in real life?
EV: In the Philippines there's this cartoon that they call Filipino Wonder Woman. Her name is Darna. I would have to say her because she was the first example of an empowered woman I ever met. As a six- or seven-year-old girl, there weren't very many empowering characters that you can look up to in media, and she's definitely not perfect. She's still in that bra, in her underwear, but at the time I thought she was so amazing. She was this woman, she kicked butt, and she saved people from danger, and that really struck a chord with me when I was really young.
My heroine in real life is definitely my mother. The more I grow up, the more I understand the sacrifices she has made to come to the US, to rebuild our life here. Growing up, I didn't understand that, and I had a lot of struggles with my mom as an adolescent, but now I have a huge amount of respect for the way she's been able to provide for us, for our family, and the things she had to give up in order to do that.
CA: What recent news story made you want to scream?

EV: Locally, here in San Francisco, it's been the budget. I work at a non-profit here in San Francisco, and the mayor has been balancing the budget on the backs of working families, immigrant families and low-income communities. He was really fighting for his own interests and what he wanted to fund, and so many non-profits, not just the one I work for, but other non-profits that provide services to low-income communities here were suffering. That was something that got me really frustrated, knowing these people were down at City Hall fighting late at night, arguing back and forth to balance the budget, all because the mayor wanted some concessions before he would give us money. That was so frustrating, especially, knowing what the cost of that would be, not just the monetary cost, but the loss of services if we don't give money to the basic services that are serving the community.
CA: What, in your opinion, is the greatest challenge facing feminism today?
EV: I think there needs to be more spaces where different kinds of feminists, and different organizations, come together and share our lessons. I don't necessarily think it's a huge challenge, but it's not happening. I think we are also busy doing our work, and it's really important that we remember to build bridges and creating avenues where we work together. Especially with heightened US militarization outside of the country, with this economic downturn, women, especially immigrant women and low-income women, are feeling that brunt of that crisis, in the US but also outside of the US. It's a really important time for us to come together as women and to talk about how, as women, we can create a better future.
CA: You're going to a desert island, and you're allowed to take one food, one drink and one feminist. What do you pick?

EV: Water, rice and the former Secretary General of GABRIELA Emmi de Jesus. She just got sworn in to Congress in the Philippines and she's been a mentor to me ever since I met her in 2006. former Secretary General of GABRIELA.