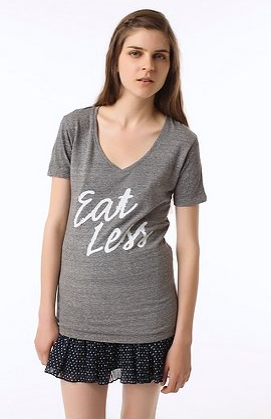 Vanessa posted last week about Urban Outfitters oh-so-clever father/daughter purity shirt. Because that wasn't enough sexism for their t-shirt department, the company is also currently selling a shirt that says simply "Eat Less."
After protest the pro-anorexia shirt has reportedly been pulled from the company's website. But apparently Urban Outfitters is still selling the shirts in stores.
I really don't care if "Eat Less" is supposed to be a "joke." Anorexia and the widespread social pressure for women to be thin by starving ourselves is no laughing matter. This t-shirt doesn't rise above the cacophony of dangerous images and messages about food – it's just another harmful product from a company whose advertising is always promoting thin bodies as ideal.
Public outcry has clearly had an impact if the product's been removed from Urban Outfitters' website. You can find plenty of ways to take action and continue this momentum via this Facebook group.