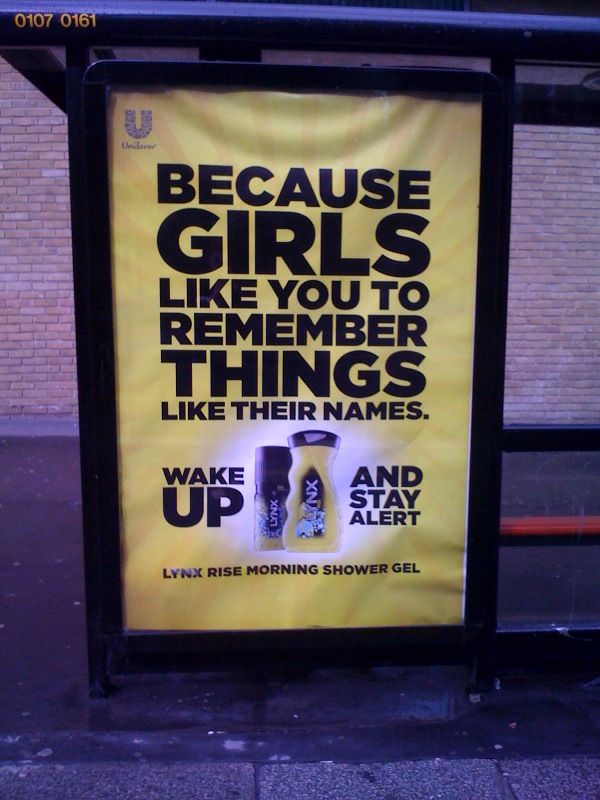 An anonymous reader in London emailed me about this charming ad campaign from Lynx. Lynx is the Australian and UK name for Axe, and I've posted about their campaigns before. This poster campaign, for a bodywash called "Rise" (totally coincidental name that has absolutely nothing to do with penises, I'm sure), appears at bus stops and in Tube stations all over London. There's also an accompanying TV campaign.
The slogan for the campaign is "Wake up and stay alert." In the Tube, according to my transatlantic tipster, the posters are placed in sequence next to the escalators. The first poster bears the "wake up and stay alert" slogan. Then,
There are about four or five photos of young, good looking women, a mixture of blondes and brunettes, all wearing either shorts or short skirts. They are all holding placards with their names on them. Then the next [posters] say "who was wearing the hot pants?" and "who was wearing the red skirt?"
Finally, there's the poster you see here, which says, "Because girls like you to remember things… Like their names." I can't put my finger on what annoys me most about this campaign. Perhaps it's the idea that men need a special soap product in order to treat women like human beings. Or perhaps it's the assumption that hey, we've all had those moments where a fully formed adult woman told us her name and tried to engage us in conversation but come on, she was wearing hot pants so who the fuck remembers what her name was, right guys? If she wanted me to take her seriously as a human being with thoughts and feelings and a name, she shouldn't have been wearing something so hot, amirite?
I'm endlessly impressed at how Lynx continues to employ the marketing strategy of insulting the humanity and intelligence of their customers. As for the font choice in the above poster, I don't think it's a coincidence that "girls" and "things" are the two largest words. After all, that pretty much sums up Lynx's approach to gender relations.