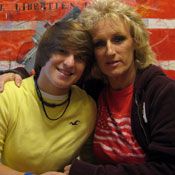 Mississippi high schools sure do seem to have a lesbian problem. First there was Constance McMillen, the student whose school first canceled their prom rather than let McMillen and her female date attend and then later sent McMillen to a fake prom.
And now there's Ceara Sturgis, a student at Mississippi's Wesson Attendance Center who was literally omitted from her senior yearbook's portrait pages – her name didn't even make it in – because of who she is.
When Veronica Rodriguez opened Wesson Attendance Center's Yearbook on Friday, she didn't see her lesbian daughter Ceara Sturgis pictured or named in the senior-portrait section of the yearbook. The latest blow came after a long battle with school officials to include a photo of her daughter wearing a tuxedo in the school's 2010 yearbook.

…Sturgis and her mother commissioned the Mississippi ACLU to protest officials' October 2009 decision not to allow Sturgis' photo to appear in the senior yearbook because she chose to wear a tuxedo instead of a dress. The ACLU wrote an October letter demanding officials use Sturgis' submitted photo in the yearbook, but Copiah County School District officials refused. Still, Rodriguez said she expected her daughter to at least be named on the senior page, perhaps with a "photo unavailable" box. What she discovered on Friday, when the yearbook came in, was that the school had refused to acknowledge her entirely on the senior pages.
So they literally erased her from the high school's existence. Incredible. You know, it used to be that folks would chalk things like this up to "ignorance." But this isn't ignorance, it's hatred – and the malicious targeting of young people makes it especially disgusting. You can find the school's contact information here and all of the staff's (including principal Ron Greer) email addresses here.
Related: Girl Gets Photo Removed from Yearbook for Wearing a Tux