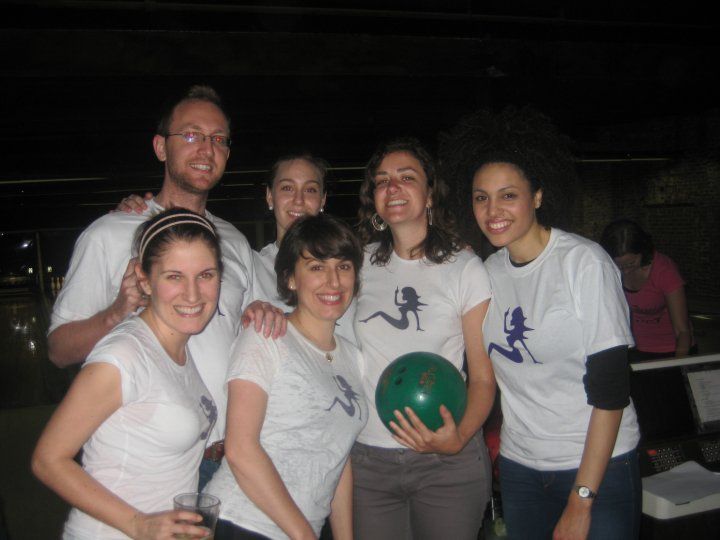 Strike the Patriarchy 4-EVA
Just wanted to give a quick shout-out to the National Network of Abortion Funds (NNAF) for putting together an amazing Bowl-a-thon for Abortion Access this Monday in NYC. There were tons of incredible teams bowling for reproductive rights and justice and our team, Strike the Patriarchy!, had an awesome time. And thanks to your support, we ended up close to $1,200 for the New York Abortion Access Fund (NYAF) and HAVEN coalition. So this is a thanks to you too!
On night of the games, as Courtney predicted, Lori was a secretly amazing bowler with I-don't-know-how-many strikes (it's all in the wrist!) and Chloe indeed had some "flare" as she nearly threw her bowling ball in other lanes several times. Jessica's husband Andrew took place of Sami (who we missed dearly) and kicked ass, as did everyone else…except me. And of course the few anti-choice protesters who showed up require a mention. (Since so many assume New York City is all pro-choice, all the time. It ain't so, folks! )
We had so much fun, in fact, that there were even talks of joining an official bowling league. Feministing bowling jackets, anyone? You can see pics from the bowl-a-thons nationwide on NNAF's Facebook page. In total, NNAF raised over $140,000 to help women nationwide gain access to reproductive care they can't afford. (And they'll be continuing to raise money over the weekend; you can still donate!) So thank you, NNAF, for helping women get the care they deserve, and in such a fun, creative and effective way.