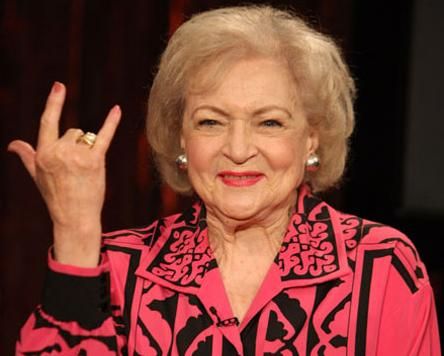 Betty White, who's hosting SNL on May 8!
Half the artists at this year's Whitney Biennial are women, suggesting "that the art of the moment has achieved gender equality, even if the market for it has not."
Coverage of the Women in the World summit.
Honoring Haitian feminists whose lives were lost in the earthquake.
Liza Featherstone is blogging about parenting over at Bitch.
On black athletes who play white-dominated sports.
Why the Stupak amendment is more about class than choice.
Awful: A Chicago teen was killed as she fled a group of men who were harassing her.
The United Nations is making an effort to recruit more women for peacekeeping units.
Awesome new blog alert: The Crunk Feminist Collective
Sady Doyle and 90s Woman parse the "Telephone" video.
Many men know frighteningly little about contraception.
Incredible sad: Juanita Goggins, who in 1974 was the first black woman elected to the South Carolina legislature, froze to death in her own home last week.
Feminist writers on migraines and other chronic pain issues.
A Swiss company is manufacturing extra-small condoms for young boys.
The long view on women in the military.
Echidne debunks coverage of a study that supposedly claims men have a longer "sexual life expectancy."
Register now for the 2010 Facing Race conference!
Canada ratified the UN treaty on disabled rights.
"[T]he likelihood of a woman's dying in childbirth in the U.S. is ?ve times as great as in Greece, four times as great as in Germany and three times as great as in Spain."
Has the iPhone stopped companies from manufacturing pink, jewel-encrusted "girl phones"?
The New York Times editorializes against state-level abortion restrictions.
"[T]he people who insist that on-campus rapes are the result of two people getting drunk and making a bad decision and the woman regretting it in the morning? Those people are wrong."
What have you all been reading/writing this week?