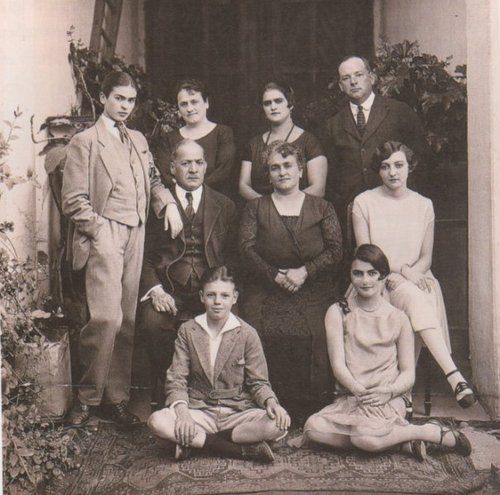 Mr. Frida Kahlo with family, circa 1926. via.
Women and girls are being assaulted in emergency shelters in Haiti.
I am shocked — shocked! — that a feature article telling women to settle rather than remain single has been expanded into a book. Take Back the Loser will be in full effect come Valentine's Day, I'm sure.
What does a (disabled) feminist [poet] look like?
Hooray for "SAFER SEX JAMZZZZZZZZ!" as my friend Becky puts it.
A Saudi mother of three has been sentenced to 300 lashes for filing a complaint against government officials for corruption and misuse of power.
It's sad to think about the number of "liberal" organizations where new women hires have to be warned, "[The boss] is probably going to hit on you."
Help update Our Bodies, Ourselves!
Fathers in the UK will soon get six months of paternity leave.
Read Sady Doyle's own "rant about women": Girl Culture and the Race to the Bottom (Extra-credit reading: Rachel Simmons' Odd Girl Out.)
Transgender rape survivors and the ugly depths of victim-blaming.
Kathryn Bigelow became the first woman EVER to win top honors for feature filmmaking from the Directors' Guild of America!

Veronica on teaching kids feminist history without rose-colored glasses.
"So, successful women (which by default means "white women") can excel professionally and romantically, while successful black women are doomed to lives of desperation and loneliness because black men can't keep up with us… I'm not buying it."
Fashion without hatred.
Go read Kate Harding on Elizabeth Edwards.
Did the pro-choice movement take the wrong approach to pushing for abortion rights in health reform?
"What if we all assumed, just for a day, that everyone was doing the best they could to get by. What if we assumed, just for a day, that poor people aren't poor because they are less worthy, less smart, less hard-working, or just plain less? Where would that leave us?"
Heartbreaking: Blackwater's Youngest Victim.
A great video on transgender pioneer Aleshia Brevard.
Frighteningly thin models at Sao Paolo fashion week.
Giving women pop artists their due.
A look at how parental-notification laws and judicial bypasses play out in real life.
What have you been reading/writing this week?