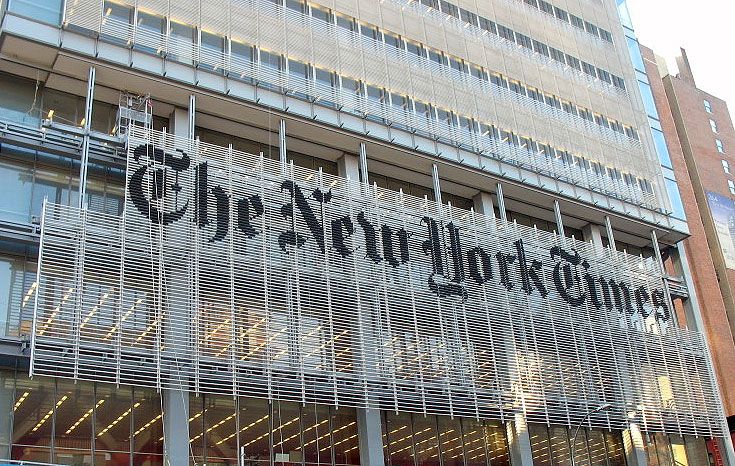 The word on the street is that the New York Times may be moving to a pay scale for viewing content online.
New York Times Chairman Arthur Sulzberger Jr. appears close to announcing that the paper will begin charging for access to its website, according to people familiar with internal deliberations. After a year of sometimes fraught debate inside the paper, the choice for some time has been between a Wall Street Journal-type pay wall and the metered system adopted by the Financial Times, in which readers can sample a certain number of free articles before being asked to subscribe. The Times seems to have settled on the metered system.
As someone who writes for a website that provides news and commentary for little to no pay (except for that joy of blogging!), this brings up an interesting question about what we should pay for and what we shouldn't. From the early days of Feministing our commitment to keeping it free was based on one issue and one issue alone–accessibility. However, as I have written here for 5 years, the reality of working for something with no pay has hit me, the lack of resources affects the depth with which I can write, the lack of resources forces me to have a multitude of other sources of income pushing Feministing to the back in the realm of passion project since as we all know, passion alone cannot sustain us, pay our rent or feed us.
That said, Feministing is only one website with a devout following (oh how we love you!), but there are a plethora of places at this point to receive free feminist insight. Similarly, this market of free information has plagued newspapers and they have reacted in many different ways, either through lay-offs, downsizing, charging for online circulation, etc, etc. The New York Times is one of the best newspapers in the world, it provides hard-hitting journalism, while other sources falter in the face of rough economic times for traditional journalism. Matt Yglesias speaks briefly to how it might affect him and his work,
But this raises the question from a blogger's point of view of how I should react to a paid model for the Times. Obviously if there's some really unique piece of reporting that it's the NYT and not anyplace else, I'll link to it. But a lot of news stories are slightly routine–everyone has a writeup of major political and foreign developments. So will I owe it to the readers to find Washington Post or AP or Reuters or BBC or Politico versions of those stories to link to? Or should I try to send a clear message to everyone that they ought to suck it up and pay to read the best newspaper in the world? Personally, I'd find it regrettable if the result of this decision was that I wound up spending more time publicizing inferior news sources but I'd also find it regrettable if the result was that I'm linking to more stuff that people can't click through.
This conundrum is at the heart of internet culture and can be applied to debates around downloading movies, music and TV along with gaining access to information and news. One of the democratizing forces of internet lauded by so many internet advocates is the ways in which it has allowed those with computer access, (which frankly is still only a certain subset of the population, but still a lot more people than before), access to news media in ways that people didn't have access to before along lines of race, class, gender, geographical location, age and ability. Basic free market analysis would suggest that this allows for a free market of information where the best one wins, right?
But see that is the thing with the internet, if you don't have a plan to sustain yourself, popularity alone may not. At some point you have to make some money if you want to survive. Just ask Twitter.
So, while I personally and professionally understand why the New York Times has to go to a pay model, I wonder what this will mean for the New York Times. The first issue being corporate control of news media sends my media justice flags up in the air, since despite difficulty of many communities still having access to the internet, those that can get online can access information. And the second issue being the reality that news media has become a dime a dozen. Sure a few of us might pay, but most people will definitely not. Just check out this poll on Mashable where 63% of respondents said 'absolutely not.'

Would you pay?