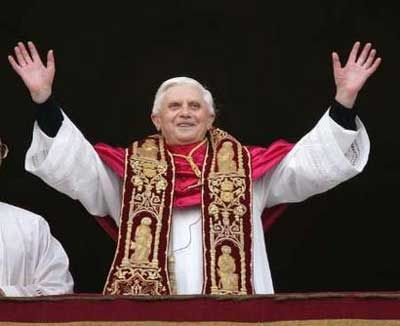 "Join us! We're not really into powerful women or gay people, either!"
The New York Times reports on an unusual move by Vatican officials to try to lure Anglicans into the Catholic Church:
In an extraordinary bid to lure traditionalist Anglicans en masse, the Vatican said Tuesday that it would make it easier for Anglicans uncomfortable with their church's acceptance of female priests and openly gay bishops to join the Roman Catholic Church while retaining many of their traditions.
Anglicans would be able "to enter full communion with the Catholic Church while preserving elements of the distinctive Anglican spiritual and liturgical patrimony," Cardinal William J. Levada, the prefect for the Congregation for the Doctrine of the Faith, said at a news conference here.
The Vatican is trying to capitalize on fear of teh gays and teh womens within the Anglican Church. There are plenty of Catholics struggling against patriarchy within their own faith community, but now the Vatican is basically saying they're the church for Christians who only want supposedly straight cis men in positions of power. And they're saying bigotry trumps almost everything that's divided the two churches since the Reformation. It's a pretty disgusting recruitment strategy.