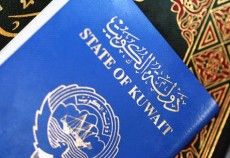 Good news (via Matt Yglesias): Women in Kuwait have been granted the right to travel without their husband's permission.
The article abolished by the court dated back to Kuwait's 1962 passport law which required a husband's signature on a woman's passport application.
Aseel al-Awadhi, one of the new MPs, welcomed the passport law ruling as a "victory for constitutional principles that puts an end to this injustice against Kuwaiti women".
Women's political rights have really improved in Kuwait over the past few years. Women were granted voting rights in 2005, and first voted and ran for office in 2006. This year, the first female members of parliament were elected. And this month, two of the four women MPs, Rula Dashti and Aseel Al-Awadhi, announced they would not wear the hijab in parliament. When a fatwa issued shortly after their announcement, the Dashti tabled an amendment to repeal a rider to the 2005 law that says women must follow sharia law. But that doesn't mean she's given up.
[Dr Dashti] said Kuwait's constitution stipulated freedom of choice and equality between the sexes and did not incorporate sharia.

"There's
a group of people who know they cannot Islamise the constitution so
they try to Islamise every issue when it comes up," she said. "I'm
going to examine anything that violates the constitution, taking it law
by law."
Bad ass. The new passport rights are a step in the right direction. And make no mistake, this would not have happened without the activism of Kuwaiti women like Dashti and Al-Awadhi.