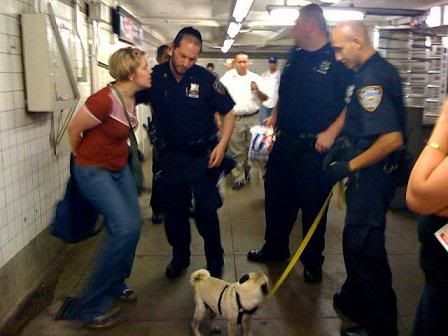 Photo by Jason Wagner, via Gothamist.
This is horrible:
Greenpoint resident Chrissie Brodigan says she was riding on the L train between Bedford and First Avenue when her pug, who has health problems, overheated and began vomiting in the tote bag she was carrying him in. As she was leaving the subway station with the dog in her arms, she says a police officer's attempt to issue her a ticket turned ugly, and when she became upset the cop began saying, "If you're going to act like a woman I'm going to treat you like a woman."
Brodigan says the cop went on to punch her in the back, and in the scuffle to handcuff her, he "grabbed my breasts and pinched them." A witness's account:
Melissa Randazzo, a speech language pathologist who lives in Williamsburg, witnessed the arrest and tells us, "something about it seemed very wrong. The cop's tone seemed really inappropriate and he kept saying things like, 'Are you going to act like a woman?' She tried to walk away, and then he grabbed her and pushed her against the wall outside the turnstile."
Luckily both Brodigan and her dog are okay.
A couple of thoughts here. Because the cop who Brodigan identified as her attacker is the NYPD's lone Hasidic officer, the Gothamist comments section has a bunch of racist comments and negative stereotypes about Hasidic Jews. Can we all please just agree that racism is not a useful response?
Also, Brodigan appears to be pretty plugged-in, and has thankfully been able to draw attention to this incident. I wonder how often this sort of abuse happens, but the woman in question does not have so many resources at her disposal. How many of these incidents do we never hear about?