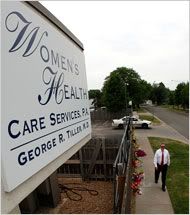 Dr. Tiller's clinic in Wichita, Kansas has been shut down according to his family.
"The family of Dr. George Tiller announces that effective immediately, Women's Health Care Services, Inc., will be permanently closed," according to a statement issued on Tuesday morning by the family's lawyers. "Notice is being given today to all concerned that the Tiller family is ceasing operation of the clinic and any involvement by family members in any other similar clinic."
This is awful. And can someone explain to me why the NYTimes is so concerned about where all these murdering pro-life "activists" will go? I didn't realize that by balanced coverage we were going to highlight terrorist organizations as having a legitimate mission and goals.
Thanks to commenter Jovan1984 for the heads up.