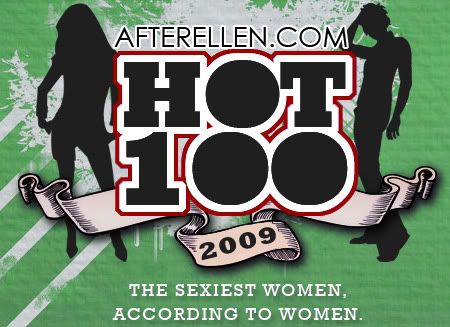 AfterEllen.com released the results of their annual Hot 100 campaign a few weeks ago. About the Hot 100:
We introduced the first annual Hot 100 in 2007 to give lesbian/bi women a way to express what, or who, we find attractive, since our voice is largely missing from mainstream, heterocentric pop culture.
I think it's important to recognize women not for what they look like, but what they've achieved. In that vein, campaigns like The REAL Hot 100 (co-founded by our own Jessica Valenti) try to do just that. That being said, I also think it's important to promote alternative views of beauty outside of a heteronormative context.
You can check out the winners here. Maybe not to anyone's surprise, Portia de Rossi came out on top this year, followed by Jennifer Beals. Rachel Maddow was number six. Over 150,000 women voted in the overall competition. They also included a specific breakout list for Women of Color this year (Michelle Obama made it!) as well as Out Women and Women over 40. These are meant to highlight the women in these categories who got a lot of votes, but didn't all make the overall Top 100, due to the lack of diversity in the mainstream media and the voting population.
Sinclair Sexsmith, author of Sugarbutch Chronicles, was disappointed by the lack of butch women on the list. In response he's asking for submissions for his own version: Top Butches of 2009. Details here.