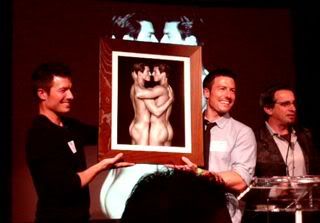 The late Herb Ritts' piece with Derek and Drew Riker.
I went to the Gay and Lesbian Alliance Against Defamation (GLAAD) OUTAuction 2008 earlier this week, and it was pretty damn awesome. In fact, it was so awesome it raised over $135,000!
I've always been a huge fan of (and occasional attempted maker of) art, so this was quite the treat for me. While the auction had pieces by the famous Pablo Picasso and Marc Chagall, some of the newer artists were pretty phenomenal. Check out the winners of the Best Emerging Artists on GLAAD's blog.