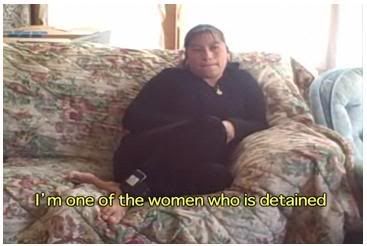 Back in May, Postville, Iowa — a small town not far from where I grew up — was the site of the largest immigration raid in U.S. history. Nearly 400 undocumented workers were rounded up and detained. Today, 28 women remain in custody as they apply for political asylum and special visas for victims of violence (many have suffered sexual assault and/or sexual harassment).
New America Media has video interviews with two of the women who are fighting deportation, María Laura Gómez and Maricruz Rodríguez. (I can't figure out how to embed the vid, so you'll have to click here to watch.)
In Rodríguez's case, she's applying for political asylum, seeking protection from her alcoholic, abusive ex-husband, who she immigrated with but separated from nearly three years ago, completing her divorce earlier this year. Because Mexican authorities have proven woefully inadequate in protecting domestic abuse victims, she can apply for asylum under U.S. law as a "member of a particular social group" that a foreign government isn't able to adequately shield from persecution, says Rachel Yamamoto, an Omaha attorney.
"From what she's told me, the husband would follow her back to Mexico," Yamamoto says, "and she's terrified. You can't go to the police, the police won't help in Mexico."
Other women are applying for a "U-visa," which allows victims of violence to remain in the U.S. while their cases are investigated. But according to Legal Momentum's Immigrant Women Program (which does great work), there's a catch:
However, in order to file their case and be awarded a U-visa, each of them must pay $80 for biometrics, and then $545 to waive their inadmissibility, $545 if they do not have passports, as well as $545 for each child they need to include on their application. Because of these prohibitive fees, this is impossible for them without your help.
These women have been victims of sexual assault and/or sexual harassment, have just lost their jobs, have been told by the immigration court that they cannot legally work until they file their U-visas (which they cannot do without paying these fees), and who are currently being ostracized by their community for having been picked up by DHS. Right now, these women and children are struggling, with the help of local churches, to even have enough food to eat. As soon they file for the U-visa they will be able to get work authorization and go back to supporting their families and remain lawfully in the United States, but they cannot do that until they are able to pay these fees.
Earlier this month, Homeland Security Secretary Michael Chertoff was singing the praises of the U-visa as a way to help immigrant and trafficked women. Legal Momentum's Leslye Orloff asked him about the Postville women's access to these visas:
Question: Secretary Chertoff, my name is Leslie Orlaf (phonetic). I work at Legal Momentum and have been involved in drafting, actually, the U and the T visas, and really want to — first, to say thank you for all of the work that both people at ICE, CIS, and border patrol have done on this issue.
I wanted — I just came back, actually, from Postville (phonetic) where we've been interviewing immigrant victims of rape, sexual assault, domestic violence. We found a 15 year-old girl who was raped by someone at the plant this weekend. And I brought a team of forensic psychologists out there to help the victims and to document the cases. But there is a major hurdle in the way of both T and U visa applicants that I wanted to make you aware of. And there is there — the fees, the 192 fees, the inadmissibility waiver fees for the 192 — I192 and the I601s are blocking access and putting victims in a situation that need these visas to be able to cooperate, and are cooperating in criminal prosecutions. In Postville, they're cooperating with the EEOC, the State Attorney Generals. There are a thousand — over a thousand counts of criminal charges that the State of Iowa's going to be bringing against the plant, and we need those fees exempted or wavered.
Right now, immigrant victims — the women in Postville that were humanitarian released that are wearing ankle bracelets have to come up with between $545 and over $3,000 per case before they can get legal work authorization and their new visas adjudicated. And it's a major, major roadblock for victims that are going to prevent victims from being able to really cooperate in these cases. It's also making them susceptible to prostitution, because men in Postville, Iowa, see these women with ankle bracelets and they're hitting on them, because they have no way to support their families because they can't file the U and get work authorization.
Secretary Chertoff: Well, that's a — I'm glad you brought that to my attention. You know, generally, we do have an ability to waive fees for people who are indigent, so let me find out about that. Because I agree with you that if there are people who are victimized, we don't want to have — you know, my definition, they're destitute. We don't want to have that be an obstacle to getting a visa that will enable them to make — help us make cases against, you know, very serious criminals. So I'm going to find out about that. Thanks.
You can write him a letter and hold him to his word. Ask Chertoff to waive the incredibly high fees associated with U-visas, so survivors of violence — in Postville and elsewhere — can actually access them (Legal Momentum has a sample letter and talking points):
Secretary Michael Chertoff
U.S. Department of Homeland Security
20 Massachusetts Ave NW
Washington, DC 20528
Comment Line: 202-282-8495
(Couldn't find an email address — if anyone has one, let me know.)
Legal Momentum has also set up a fund to help the women detained in Postville navigate the visa and asylum process.
From New America Media:
Veronica Cumez, a 32-year-old Guatemalan wearing an ankle bracelet, hopes to obtain a U visa as the longtime guardian of her nephew, 17-year-old Gerardo Soroví, who was an underage worker at Agriprocessors (underage workers, over 20 of them, also were released the day of the raid). However, she was forced to make a decision that would be heart-rending for any mother. Her 14-year-old daughter Silvia Cumez decided she couldn't bear to remain amidst the debris of their former lives in Postville any longer, and wanted to return to Guatemala, where her two younger siblings live. Cumez initially resisted, but had to relent when Silvia insisted.
One cloudy afternoon, Cumez stood in her driveway and watched a hired green van drive away with her daughter in it, bound for the Chicago airport five hours away, and a direct flight to Guatemala City. The last words she said to her daughter were, "Take good care of yourself … let God be with you." After the sound of the tires on the loose gravel faded, Cumez stood and stared at the empty driveway a few minutes longer, the back of her hand covering her mouth.
If granted a U visa, Cumez has decided she will remain in the United States to work and send money to her children in Guatemala, so that they might live better.
This is not just paperwork and visas. We're talking about the very real lives of very real people.
Related:
When an Immigrant Mom Gets Arrested
Report domestic violence, risk deportation?
Immigration agent rapes woman seeking green card
(As a side note, Postville's history is really fascinating. When a group of Hasidic Jews moved to town to open the Agriprocessors plant in 1987, a culture clash ensued — it's chronicled in a book by Stephen G. Bloom, a professor at the University of Iowa.)