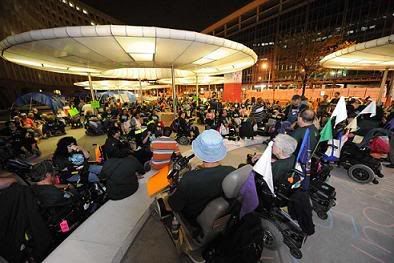 Photo via ADAPT.
At Feministe, cripchick has a dispatch on the disability-rights group ADAPT's civil disobedience, going on now in DC:
600 ADAPTers are in DC fighting for affordable, accessible housing. At 4:30 am this morning they set up a tent city (named DUH City- HUD backwards) outside of the Dept. of Housing and Urban Development (HUD). They spent the day talking to HUD officials, protesting at McCain's headquarters (11 arrests, I believe), and being escorted by the police to the Democratic National Headquarters to deliver information. Our feminist friends over at FRIDA are with them.
FRIDA (Feminist Response in Disability Activism) explains what ADAPT is agitating for:
ADAPT's housing platform points to America's longstanding and still growing crisis in the availability of affordable, accessible integrated housing. Many people with disabilities live on benefits that are only 18% of the median income, a full 25% below the poverty level, and an amount that is less than the national average rent for a studio/efficiency apartment.

"The federal government is sending stimulus payments to middle class workers, and is providing economic relief for the mortgage crisis, and maybe even the bank crisis," said Dawn Russell, Denver ADAPT. "What about all of us who live on fixed incomes? If we can't afford the cost of housing, we'll end up on the street or being forced into nursing homes and institutions. What are the federal government, Congress, and the presidential candidates going to do to help us with our housing crisis?"
Check out photos here, and follow ADAPT on Twitter here. Cripchick will be posting updates on her site, as will PhilospherCrip, pinky bear, and the Roving Activist, who are at the protest in DC.
A quick side note: If you have any questions as to why this is appearing on a blog with "feminist" in the title, please see Cara's post, "Disability Rights Are a Feminist Issue."