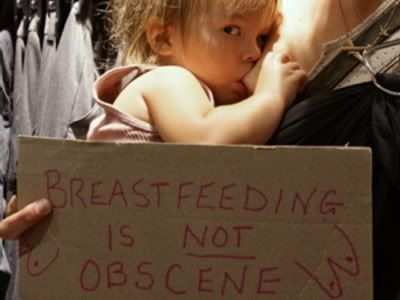 Dozens of breast-feeding women packed themselves into a Vancouver H&M last week to protest the store, where employees recently told a mom that breastfeeding was against H&M policy because it might offend other customers.
Just after noon the trendy clothing store in a downtown mall was filled with a sea of nursing moms, strollers, toddlers, dads and others who turned out to make a political point.
"It is normal. It is not obscene. It is every baby's need to have food and be nourished and nurtured," said Veronika Polanska as she rallied the moms to publicly feed their babies.
…"I don't want to live a world or city where that's acceptable to shun women for breastfeeding," said nursing mum Sonia Tilley-Strobel.
H&M corporate spokesperson Laura Shankland came to the protest to smooth things over: "We apologize. And it seems to be a miscommunication and a misunderstanding. Our policy is to allow breastfeeding nursing mothers to breastfeed or express milk freely in our stores."
Related Posts: Lactivists protest Applebee's, Alabama women can breast-feed in public. So they do., Kansas gives out breastfeeding cards
Picture via.